We were very fortunate to have my friend Melissa come visit us in Barcelona a couple weeks ago! We have been in Spain for about three months now, and it was nice to spend time with a familiar face (and discuss our American reaction to Spanish culture). Fourth of July was right after Melissa's visit, and Grant and I realized that we really only know one other American here that we would call up to hang out with on the Fourth (and as it turns out, she is really Russian, but grew up in America. So it only sort of counts). Most of the people we have met here are expats from other European countries. All this to say that we had a really fun time with Melissa and got to play tourists in our own town. It was about time that we stepped into Sagrada Familia, anyway.
We covered a lot of ground while Melissa was here, so I thought I'd try to break up the visit into a series of short stories of some of my favorite moments. Here goes!
Cable Car of Doom
On the first day, we walked all around the Old City and the beachfront (I think that day we had the highest number of steps according to Melissa's fitbit). We decided to take the cable car from the beachfront to Montjuic, because we'd heard there were some great views from there. It was such a clear day with a bright blue sky! There were indeed great views, but the cable car ride itself was a bit nerve-wracking! First, it started with the elevator, which was pretty shaky. Then, once we were on the car itself, It jittered on the cable. But we survived! We got some spanning views of the city and shared our inaugural pitcher of sangria at the top of Montjuic (that made the ride down a little easier). Not a bad way to start the trip off.
Giving light and music to the common man
One of the things I enjoyed most about the visit was that I got to learn some historical tidbits that have given me a new way to view Barcelona. We took a guided tour of the Palau de Musica, which was a music hall built very specifically for the common working man in Barcelona. The music hall was built was to give respite to the laborers with a venue that was accessible, light-filled, and exposed them to music, which was a luxury. The architect not only envisioned the space in detail, but he also delegated out specific parts of the building so that it was finished in three years (NOT like Gaudí, as our tour guide pointed out). Once you start to look at the detail of the building, it gives you new appreciation of the mastermind who could balance out so many symbols of music, Catalan culture, and worldwide influences. I also learned recently that the Barcelona neighborhood Exiample was likewise designed deliberately with more space between the blocks to give the common man seemingly more space. The block intersections, which are shifted 45 degrees to open the space between streets up, are a striking contrast to the small streets of the Old City.
Lolea wins again!
Grant and I discovered sparkling sangria, called Lolea, at a restaurant, and we have been obsessed with it ever since. Naturally, we had to share this obsession. 🙂 We went back to Elsa y Fred to share this beautiful bottle of sangria. Come on, I know you can't resist the cute polka dots! I think it's safe to say it's Melissa-approved (and so were what some would say are the city's best patatas braves!)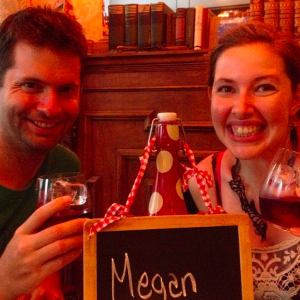 Forget the bars: The best rooftop view in Barcelona is Catedral
I have seen many churches in Europe, but I was genuinely surprised at the magnitude and grandeur of the Catedral in Barcelona. It definitely holds it own. One of the highlights of our visit there, though, was going to the rooftop. A theme of this trip was finding the best rooftop bars to get views of the city. What we discovered, though, is that the best views of Barcelona are actually closer in than the very high buildings, like on the third floor. From the Catedral roof, for example, you can actually look out and see Sagrada Familia at eye-level, as well as many of the other landmarks. Once again, we were amazed at how little guardrails and safety precautions there were on the roof, but then again, this is Spain.
Rooftop jazz at sunset
What is better than sipping a glass of cava and watching a live jazz performance with friends on a rooftop at sunset? Enjoying all of that on the rooftop of La Pedrera, Gaudí's apartment building masterpiece. La Pedrera runs a special series of jazz performances on the roof during summer. When we first stepped onto the roof at dusk, I felt like we had stepped on to the moon – Gaudí's architecture takes on an ethereal, other-worldly quality in the dim light. It was a surreal experience to be able to enjoy the excellent jazz music, cool night air, beautiful architecture, and view of the city. That is my happy place.
Gaudí for Days ("I'm a Gaudí girl in a Gaudí world")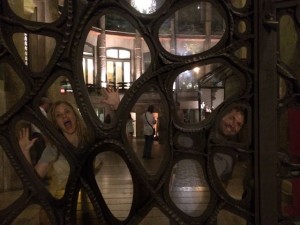 Barcelona offers so many opportunities to experience Gaudí's work – some of the buildings are open for touring, and others are not. I think there are 8+ major Gaudí works, at least. I have to say, I wasn't convinced that seeing all of them would be very interesting, but the more Gaudí we saw, the more we appreciated his philosophy and approach. Gaudí's buildings, especially the facades, look like they are out of a Dr. Seuss book. However, once you understand his intentions, his designs suddenly turn from the silly to the inspirational. I would highly recommend that you see several of his works to scratch the surface of what was going on in his head and what he was trying to achieve.
Part I: Colonia Guell
We knew we had tickets lined up for Sagrada Familia the next day, but we had read about Gaudi's crypt at Colonia Guell as we passed through an exhibition at La Pedrera. We decided to go check it out. It was commissioned by the Guell family to be the church of what was essentially an industrial community – all the people who worked at the Guell factory lived in a compound with medical care and education provided by the company. More interestingly yet, Gaudí intended it to be a mini-Sagrada Familia, so many of the concepts that he used in Sagrada Familia are displayed here at a smaller scale. Albeit left unfinished, the church did showcase Gaudí's ideas – and as a visitor, you could actually touch the arches and sit in the pews. Of all the Gaudí works, it was the most accessible, the one where I didn't feel I was so much in a tourist attraction as I was a participant in Gaudí's experience. Rather unfortunately, the industrial colony around the church was well-preserved but not well curated. I think this was one of the hottest days, and we were all wiped after being in the heat for the day.
Part II: Casa Batlló
Doing the audio tour of the house Gaudí designed for the Batlló family on the Block of Discord was a last-minute decision, but as it turns out, a really good one! The audio tour for this was fantastic and really helped to break down Gaudí's vision. Two things made this stand out: 1) It is finished and preserved and 2) It showcases Gaudí's interior design and furniture design, which shows his attention to detail on a small scale as well. We got to take our photo on the outside facade with the beautiful mosaic tiles. Now, we were finally prepared to see the Sagrada Familia.
Part III: Sagrada Familia
So, I don't know how this happened, but I literally had not seen a photo of the interior of Sagrada Familia in the recent past (or since I can remember). I always thought it was famous for its exterior facades. This heightened the experience of stepping into the illuminated, canopied interior for the first time. The Sagrada Familia is truly unlike anything I have seen in my life, yet utterly familiar due to Gaudí's design based on nature. It felt to me as if I was standing in the Garden of Eden before the fall to sin. Having visited the other works of Gaudí, we knew what to look out for and found ourselves acting like "Gaudí experts", telling each other "…and did you notice the way the columns look like tree trunks?" We took a guided tour, and then got to walk up to one of the towers to see the ongoing construction up close. We didn't expect the narrow winding staircase at the end, but we justified it to ourselves by pointing out how Gaudí must have been inspired by a seashell or snail to create a staircase like this.
Part IV: Park Guell
We were in for another treat going to Park Guell, because we got to meet up with our friends from San Francisco, Pat and Christine, who were in town on vacation. Strolling through the park, we got to catch up and share the experience of Gaudí's landscape design. Afterwards, we went to the top of Mt Tibidabo to have a sunset dinner overlooking the whole city. It was a special night to share with friends!
Sitges: Vacation from the vacation
After several days tromping through the the hot streets of Barcelona, it was time for a little beach vacay. We took the train 30 minutes outside the city to a small coastal town named Sitges. Not only is it known for its great beaches, Sitges is also known for being a center of gay pride (unfortunately we missed the pride celebration by a few weeks). In fact, it kind of reminded me of the Castro in San Francisco. We got to enjoy relaxing time laying out on the beach, and the water was warm enough to get in as well! The town itself was very cute with white-washed buildings and romantic doorways. Being in Sitges called for indulging in some fresh pina coladas and gave us a small taste of nightlife in this town. This mini-trip was a perfect way to wind down after several packed days of sightseeing.
We ain't classy enough for the W
On Melissa's last night in town, we wanted to go to the rooftop bar at the W Hotel on the beach. However, we were denied entrance because of what we were wearing – apparently, yes, they have a dress code at 6 PM in the evening for drinks. Flip-flops nor shorts were acceptable. So we took a walk down the beach and enjoyed a drink at a beachside chalet instead.
All in all, a trip with some great memories! We were delighted to experience all the sights for the first time with Melissa. As our first guest, Melissa can vouch for our small side operation of a bed & breakfast for friends and family. A huge thanks (and hug!) to Melissa for coming to visit! Hope you had as a great of a time as we did!