The Alps: Are you thinking of blue snow-capped mountains hugging small green towns in their valleys? Are you thinking summer hiking and outdoor adventure? So were Grant and I when we booked our tickets to Switzerland! Our nature-oriented itinerary didn't exactly work out as planned due to weather, but in the end, Switzerland redeemed itself with her lovely chocolate, cheese, wine, and small towns.
Our original dream for Switzerland was to hike part of the Via Alpina from Engelberg to Lauterbrunnen (close to Interlaken). Switzerland an extensive network of accessible hiking trails. Our plan was to fly into Basel, train to Engelberg, hike to Lauterbrunnen, then train to Zurich and fly out. The highlight of the trip we planned was to experience the top of the world while through the Alps. Alas, it was not meant to be.
Arrival in Basel
We arrived in Basel on a dreary Monday afternoon. Basel is a city at the corner of Switzerland, France, and Germany. Even in the airport, there are signs to either exit on the France or Switzerland side of the building. The first thing we did was get a Swiss SIM card for Grant's phone so that we could access data in the country if we needed to. In every way possible, Switzerland is the exception to other European countries. For example, our phones with the Spanish SIM work in all the countries for a reasonable rate but not Switzerland. Switzerland still uses Swiss Francs as the currency, so we were constantly carrying around two sets of currencies.
We visited two unique museums in Basel: the Vitra Design Museum, the factory of famous Swiss furniture maker, and a museum dedicated to Jean Tinguely, an innovative artist and inventor. The Vitra Design Museum was a factory complex made up of architectural masterpieces. We were very confused when we couldn't find a museum building, per se, until we realized that the whole group of building were indeed the showcase. We were especially fascinated by the Vitra Haus, which is a building that is filled with delicious discoveries of staircases, rooms, and passageways. Just walking around it was an experience!
The next day we visited the Jean Tinguely Museum, which showcased moving and interactive sculptures from everyday objects. I have never seen anything quite like it! Below is a taste of some of the exhibits.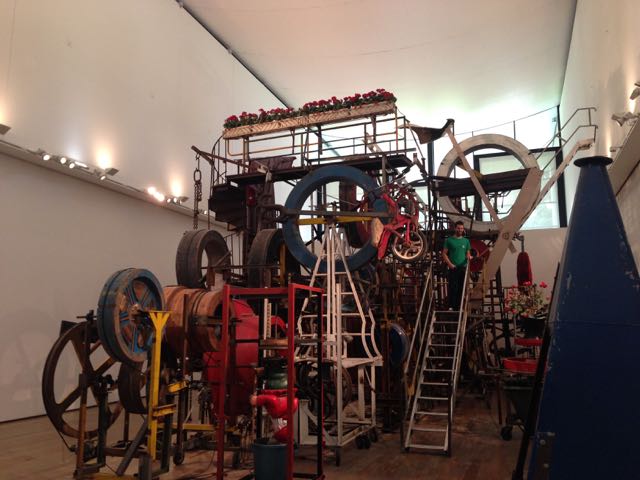 Train to Engelberg
We had bought our train tickets and booked our hotel in Engelberg ahead of time to keep costs down. Unfortunately, when we woke up Tuesday morning, we realized that the weather in the Alps was most likely not going to cooperate for hiking. We decided to head to Engelberg anyway, and check it out for ourselves. We knew we'd be kicking ourselves if we didn't make sure the hike was not going to be possible.
Engelberg is primarily a winter sports town, and it is folded in the valley between two ski mountains. In fact, it's a rather recent phenomenon that it's open in summer at all. Much of the town was closed down, save for a fromagerie, a monastery, and the lifts up to the top of the ski mountains.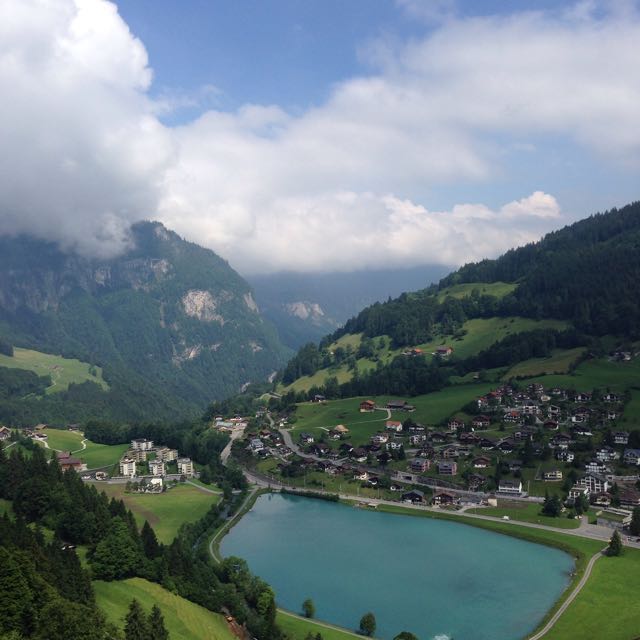 We decided that while we were there, we might as well go to the top of one of the ski mountains. It was pretty expensive, so we weren't sure about it, but we took our chances. And boy! Did we see a view!  A view of the inside of a huge cloud covering up the top of the mountain!
Haha, joke was on us! We couldn't really see anything from up there. This cemented our decision that the Alps hike was not going to be pleasant nor pretty. The only part of the entire country of Switzerland where it would not be raining for the next five days was Geneva – so we switched gears and headed there! Thank goodness for the reliable and convenient train network of Switzerland that got us to Geneva within 4 hours!
Geneva
I have to admit, at this point in our journey, I was feeling a little grumpy. I was really looking forward to getting out in nature instead of being in big cities. However, the train ride vistas wrapping around Lake Geneva on our way into the city tugged at the corners of my cheeks and made me smile. Could it be there were other parts of this country that were equally gorgeous in their own ways?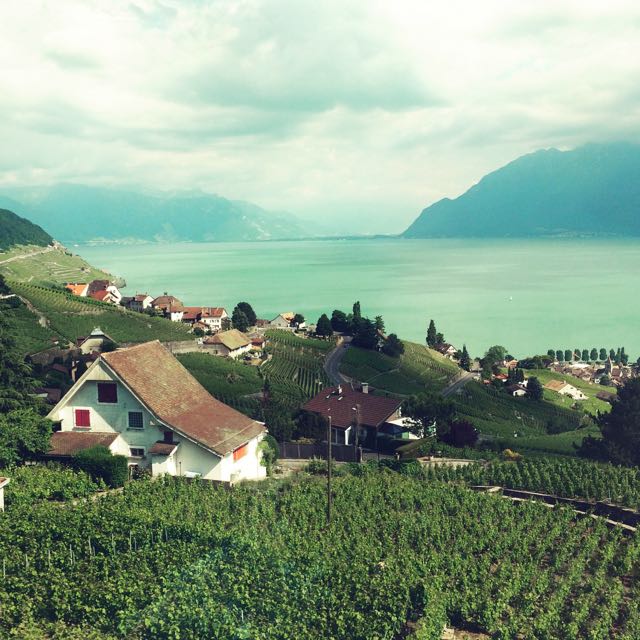 In Geneva, we strolled along the lakeside, meandered between independent chocolate shops, and flexed our worldly citizen muscles in the United Nations and Red Cross Museum. As it turns out, the tour of the United Nations was composed mostly of covert glances into conference rooms and meetings. I did learn quite a bit about which councils meet, how often they meet, and the origins of the U.N. from the League of Nations.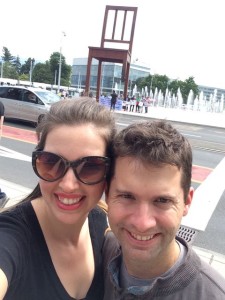 The crown jewel of Geneva for me, though, was the Red Cross Museum. As a UX designer, it was a treat me for me to experience interactive exhibits and appreciate the clever details of the design. For example, they had life-size video projections of people who have benefited from Red Cross work to explain the extent of service. You could walk up directly to these projections and touch your hand to theirs to start them talking to you. I also learned about a whole arm of the Red Cross that I wasn't aware of – Reconnecting Families, which keeps records of prisoners of wars and helps to facilitate communication between them and their family.
Although Geneva had some interesting landmarks, the region around it won over our stomachs (and therefore our hearts!)
Chocolate and Cheese Trail
Yes, there is indeed a hiking trail in Switzerland called the Chocolate and Cheese Trail! Naturally, when I discovered this was a mere two hours from Geneva, I insisted that we go! For Grant and me, the two days spent in this region were the very best of the trip. The hike started in the charming village of Charmey, crossed over a dam, weaved through a lush gorge, stopped over in Broc at a Cailler chocolate factory, and then continued through cow-dotted pastures to the castle of Gruyeres and a famous fromagerie.
The hiking trail was marked very clearly. Unfortunately, it was also marked as "closed". Being the adventurers we are, though, we decided to ignore the signs and go through the trail anyway. It certainly was a fun way to pass the time guessing why they had closed the trail (was it the fallen tree over the path? the fence that was broken? or the bridge that was crippled from a recent rock slide?).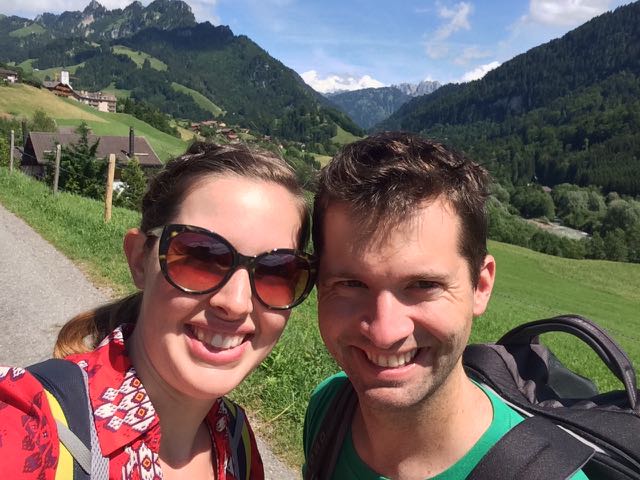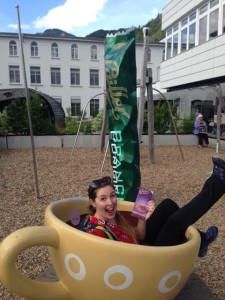 We started to smell the roasty chocolate in the air as we climbed out of the gorge into Broc. Grant claims he has never seen me hike so fast (what can I say?). Unfortunately, we were 15 minute too late to go through the chocolate factory; fortunately, the gift shop with copious variations of chocolatey goodness was still buzzing with sugar-frenzied people. We each got some chocolate – for sustenance for our hike, of course. Then it was off to the land o' cheese!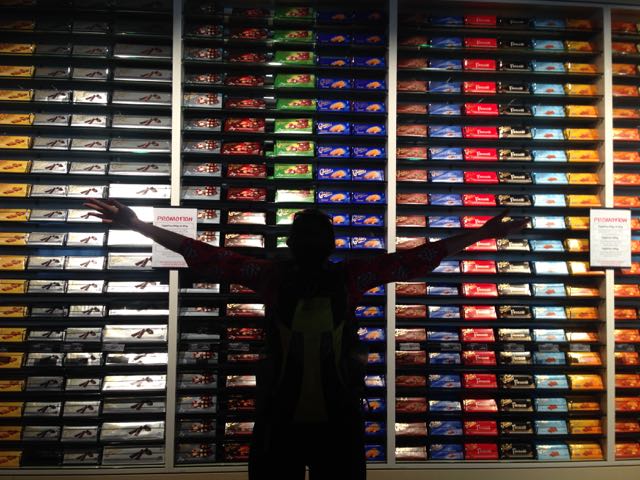 This stretch of the trail was distinct for the soundtrack of heavy bells echoing off the mountains from cows along the path, as if they were playing an elaborate chime piece for us. We were back in the creases of the mountains and headed straight for a striking castle town in the distance, which seemed to be floating on its own island of a mountain: Gruyeres.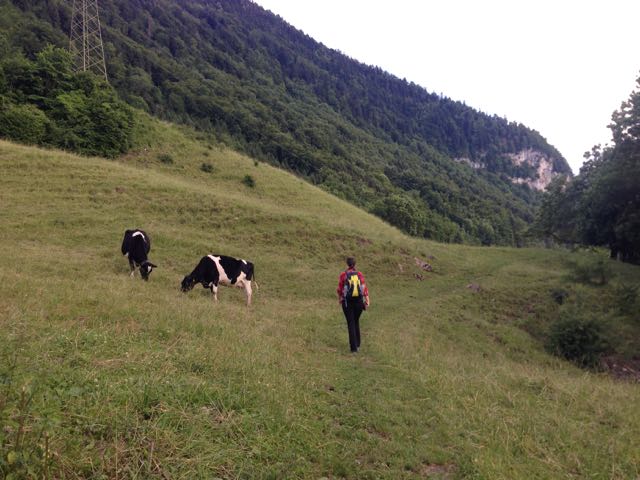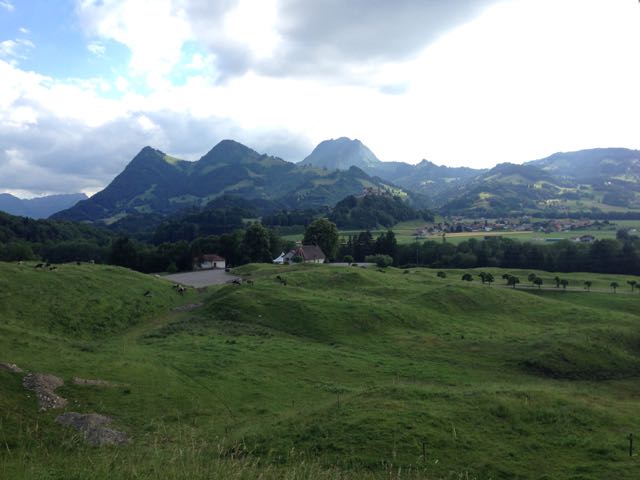 The castle of Gruyeres provided stunning views of the surrounding countryside and walking through the main street of the village transported us back in time.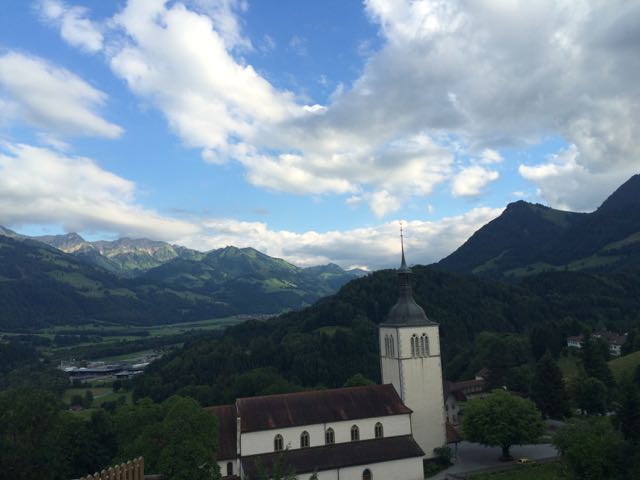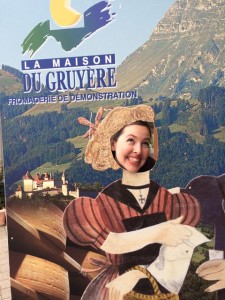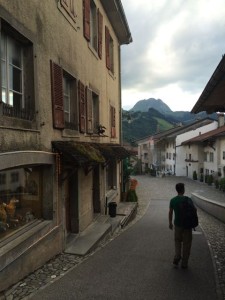 We are really good at getting to places at ALMOST the right time. This was the case again with the fromagerie in Gruyeres (just closed!) and subsequently the bus we needed to take to the neighboring town to get to our hostel. We found out the bus schedule we had on our phones was wrong from a friendly man whose shop we wandered into in order to kill time waiting for said bus. Upon calling the hostel and asking if they could pick us up in a car, we were notified by the hostel manager that we could walk 3 miles up the mountain to get there instead. Thankfully, the shop owner took us under his wing and offered to give us a ride to Moleson and our hostel. We stocked up on dried meat, cheese, and wine at his store as a token of our gratitude. As we winded up the mountain road to Moleson, the shop owner led us through his life experiences as a chef aboard a cruise ship (sometimes docked in San Francisco), a restaurant owner, and finally most recently as the owner of the town's train station. He had such an interesting story, and I don't know what we would have done without his kindness!
At the hostel, I leaned in to give him the Catalan familiar salutation of a kiss on each cheek. In this part of Switzerland, though, I learned, they give three kisses – one on the left, one on the right, and then one on the left again. We were also informed that in France it is four kisses. As if I wasn't confused enough by this time about which language people spoke! In this region of Switzerland, the prominent language is French but in other parts, it is German.
Montreux
When we woke up the next morning, my hankering for fondue had grown overnight into an insatiable monster. I had to have fondue before we left Gruyeres. Grant looked up the highest-rated fondue restaurant, and of course, it was one we had dismissed as a tourist trap on our way into town. We decided to hike back down to Gruyeres to catch the train back towards Lake Geneva. As we are avoiding cow paddies in the path and crossing through pastures, we stumbled upon a mountain shack restaurant selling fondue on our way down. It was owned by this cute elderly Swiss couple who only spoke French. We were the only ones there – save their Bernese mountain dog who greeted us enthusiastically. We had an interesting time ordering without knowing what we would get, but I don't think we could have gone wrong there. We had the freshest goat cheese fondue I have ever tasted in my life, with an incredible view overlooking the valley.
All cheese'ed up, we were ready to head back to Lake Geneva and check out the World Heritage Lavauex vineyards terraced along the lakefront. These vines have been around since Roman times. You can hike among the vines between tasting rooms. The vines are built into the slope of the land and are organized thoroughly with rows and steps for care and hand-picked harvest. Grant was especially fascinated by a machine that resembled a small roller coaster to let wine makers harvest hard to reach areas of grapes. The wine was a wonderful way to cap off our food adventure.
On our last day, we visited the Chillon Castle in Montreux, which was occupied by various families that controlled trading routes through Switzerland. The castle is built right into rock in the water and is in very good condition.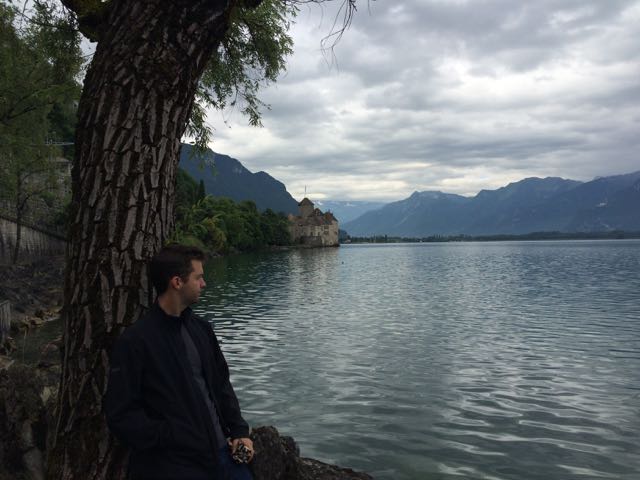 While our trip to Switzerland wasn't exactly what we had envisioned, we were won over by the beauty of the southwestern corner of this mountain-adorned country.
Note on Expensive Swiss Livin'
One thing we (should have) but didn't anticipate was how expensive Switzerland was! Not only is there not a very good exchange between the swiss franc and the euro, the actual price of items is also marked up. It is a beautiful country, and it is very safe – but you pay for it. I had an interesting conversation with someone who worked at a hotel we stayed at. He told me that every 3 months, he would drive across the border to France to go clothes shopping as to avoid Swiss prices. Hilariously, he and his friend flew to Madrid, spent a few days there, and got a tattoo for cheaper than just the cost of the tattoo in Switzerland.