Our trip to Belgium was one of the most relaxed trips we've had our entire time here. I don't know if it was the fact that the sun set at 5:20pm, or it was that drizzling hypnotic rain rhythm that soothed us, or the heavy meat, potatoes, and beer, but Grant and I got in the habit of sleeping late and taking daily afternoon naps (which is unusual even for us).
We flew to Brussels first, where our Pantone Hotel accommodations awaited us. Pantone makes a color palette that designers use, so I was very excited to be staying at the namesake hotel. Each room had a color theme, and we were in a Violet room.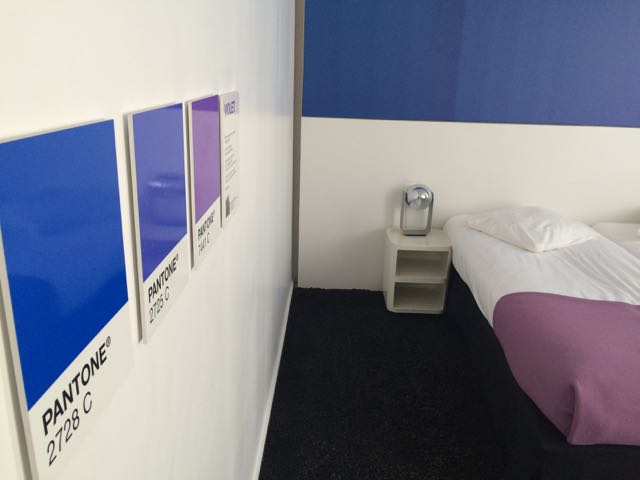 After our luxurious afternoon nap, we headed out in the evening to the main square to eat and try this Belgium beer everyone's been talking about. Even as we sought out a restaurant to chow down, we stopped in a few chocolate shops for a pre-dinner aperitif of creamy Belgium chocolate. It was really unbelievable how delicious it tasted! I didn't think it would be any better than any other chocolate, but it was!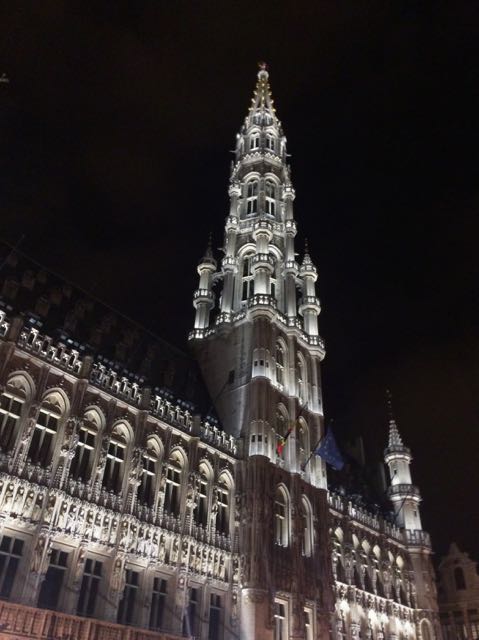 A friend who had lived in Brussels recommended a place to us that had ten's of craft beers on tap. As we slid into a booth at Moeder Lambic, we were immediately overwhelmed with the selection of beers on the menu. I mean, we-kind-of-sort-of felt like we got to know wines living in the Bay Area, but we aren't typically beer people. The charming thing about bars in Belgium is that the bartenders and servers will actually guide you to a recommendation. Our server even took a seat next to me in the booth to ask me questions about what I might like. And the beer was so tasty – I tried a dark brown beer with hints of cinnamon, chocolate, and spices, and Grant tried an IPA.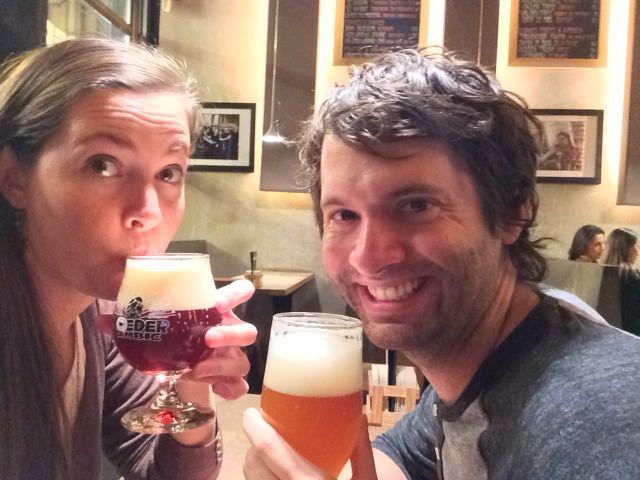 The next day we were planning to head to Bruges, but we decided to stroll around a more local non-touristy neighborhood of Brussels, first: Ixelles. Our walk-about was a bit of a bust (several places I read about ahead of time were closed), but it wasn't anything that a bit of warm frites covered in curry ketchup sauce and a chocolate store tour designed by Grant couldn't fix. Basically, at the first chocolate shop, we had the shop owners select six different chocolates for us to try. We devoured those treats as we walked to the next chocolate shop. And so on, so forth…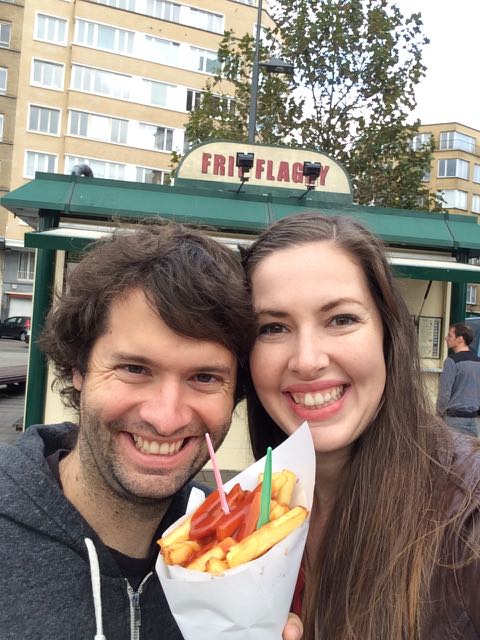 Did I also mention that Brussels' architecture style is Art Nouveau? We spotted several buildings entwined in beautiful ironwork, like this door below.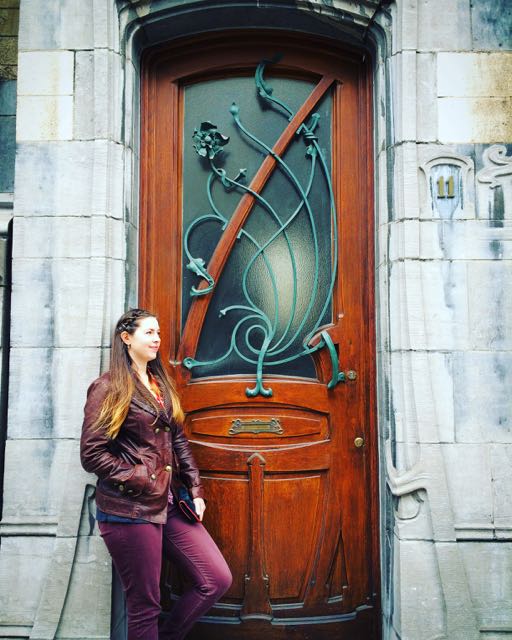 We hopped on the train to Bruges and felt completely transported to a different world! Bruges spreads out in front of you in several meandering canals – all unique. The fall colors of the trees reflect off the canals for a panoramic view that is spectacular from any angle.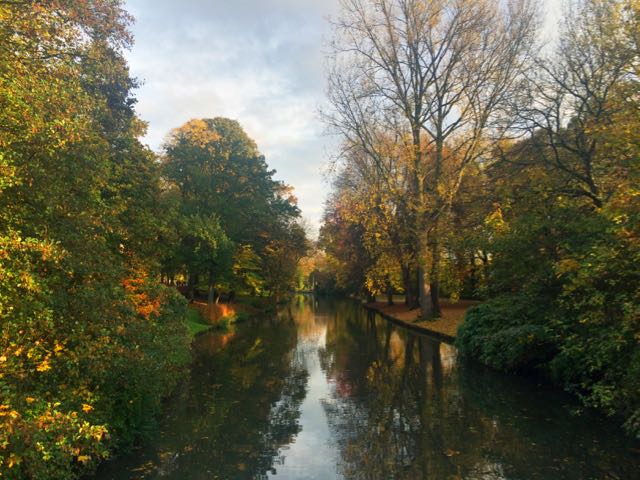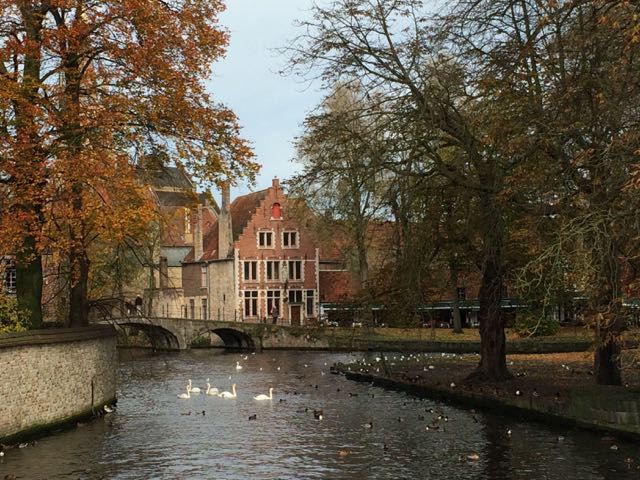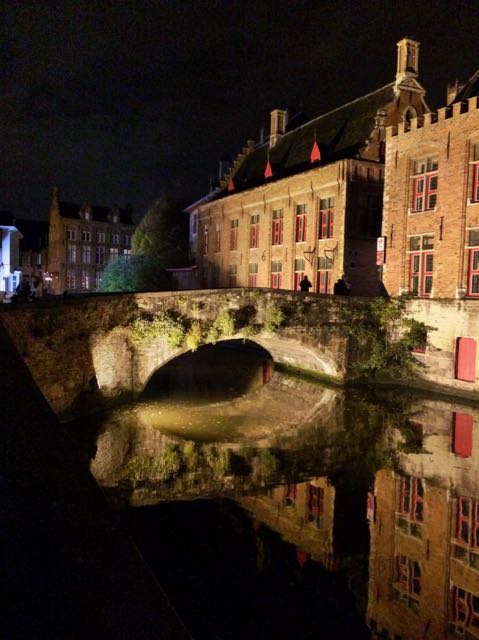 We stayed in the coziest B&B in Bruges, taken care of by a warm woman who loved to cook and travel. Upon our arrival, she drew out on a map all the places to see – including her own favorite scenic canals and secret places in Bruges. Per the usual, our evening included a filling dinner and beers to cap off the night.
The next day we pedaled out of Bruges on city commuter bikes, following the canals to a neighboring town and beyond. The rush of being on bikes, with the awe-inspiring canals and the mirrored trees in the water, in the crisp autumn air, made us not want to stop! So we decided to bike all the way to the North Sea in Heist (which was about 20km away, so not too far).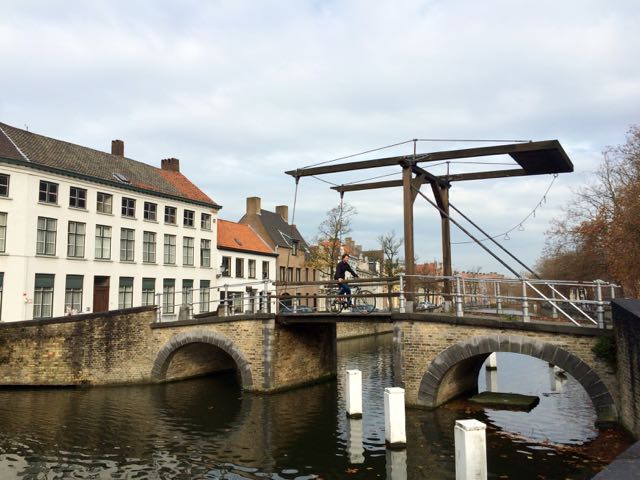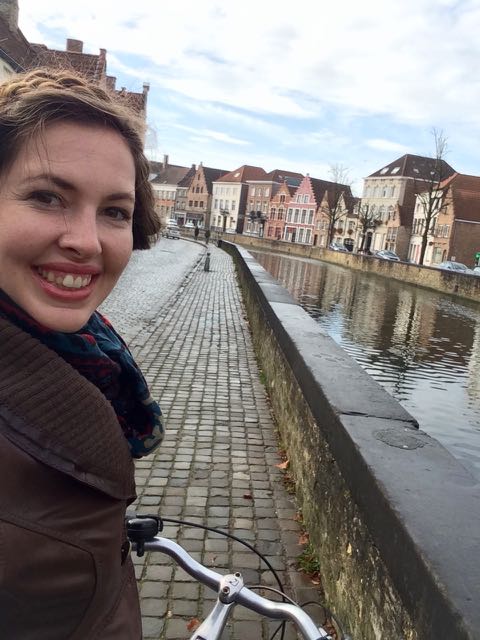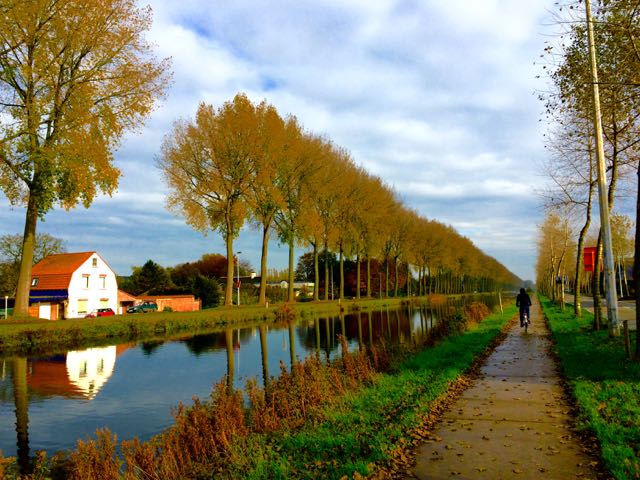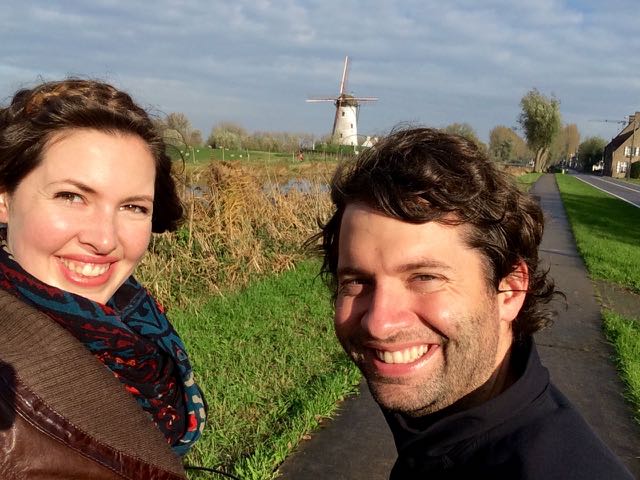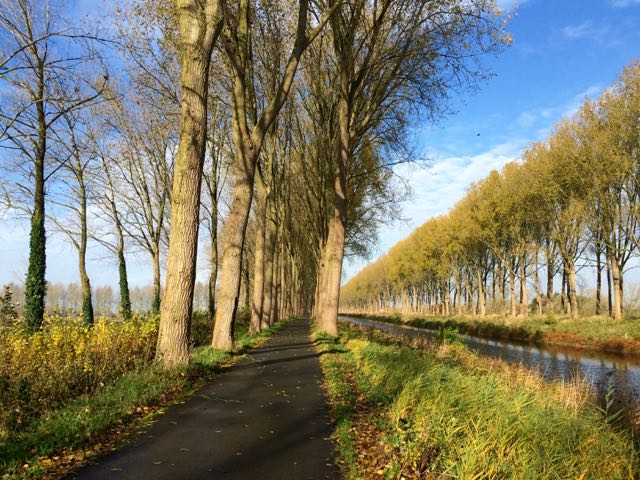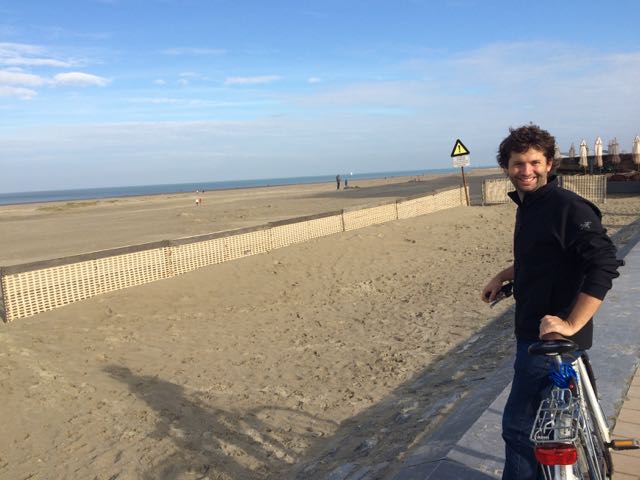 Riding along the tree-lined canals with the branches of the trees forming a grand cathedral above us, and the orange, red, and golden leaves crunching below us, was my happy place. It was just so peaceful and perfect.
We stopped in the small town of Damme to check out the crumbling cathedral. Despite being roped off, Grant of course still tried to go up in the tower. Alas, it was closed. So we just had to eat a delicious lunch of pumpkin meatball soup instead. You can tell I was very disappointed.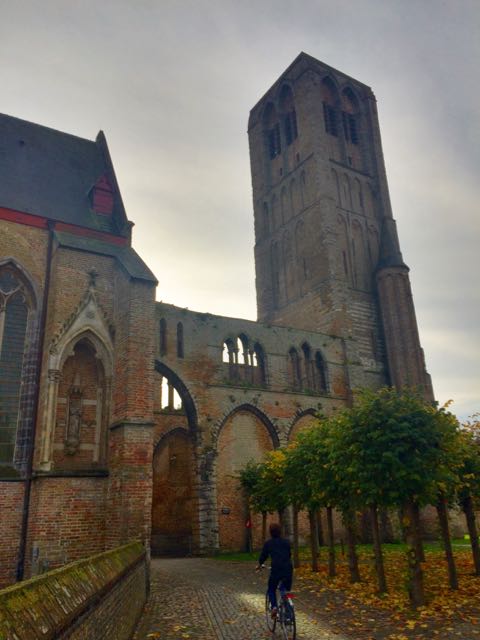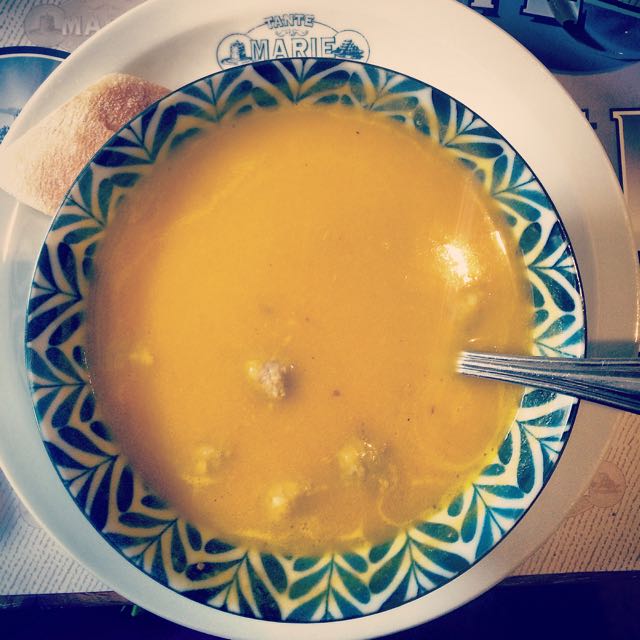 On our way back into Bruges, we stopped by a couple of the windmills on the edge of town.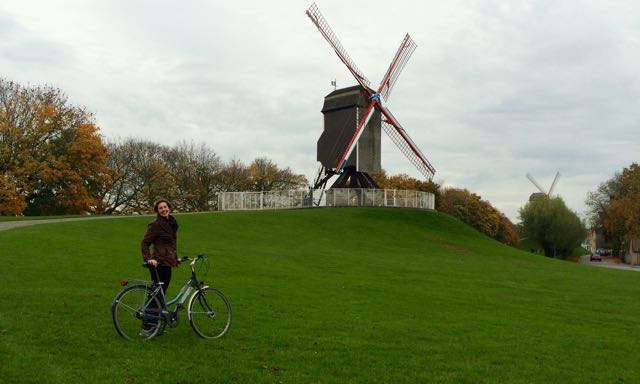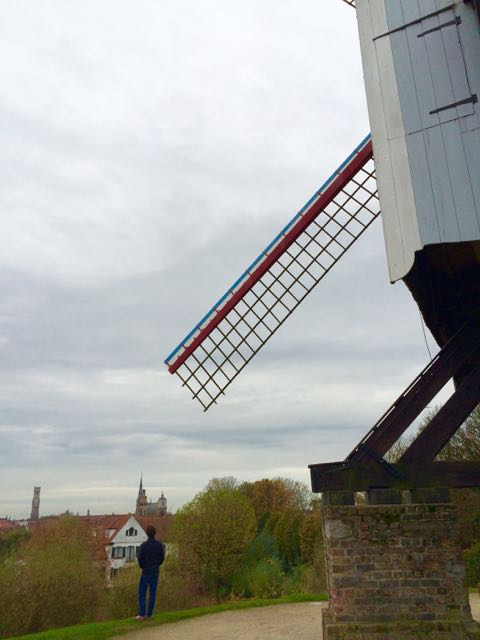 Our last full day in Bruges, we walked around the town and checked out a few of the tourist "sights" that we were probably supposed to be checking out the entire time. To get our blood really moving we climbed the belfry tower in the middle of town. Three-hundred and sixty-six stairs later, we had a wonderful view of the city. However, the real delight was being able to see the mechanism for the bell chiming up close – and see it at work as it softly hammered each bell while we were standing directly abreast of it. It was like a giant music box!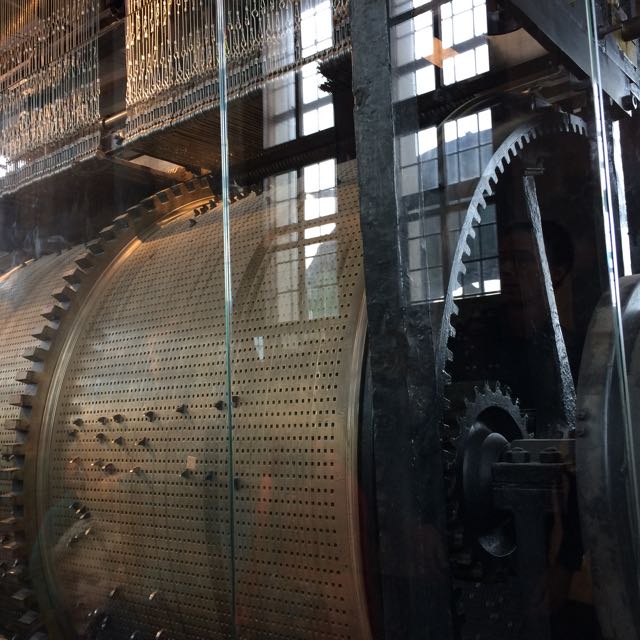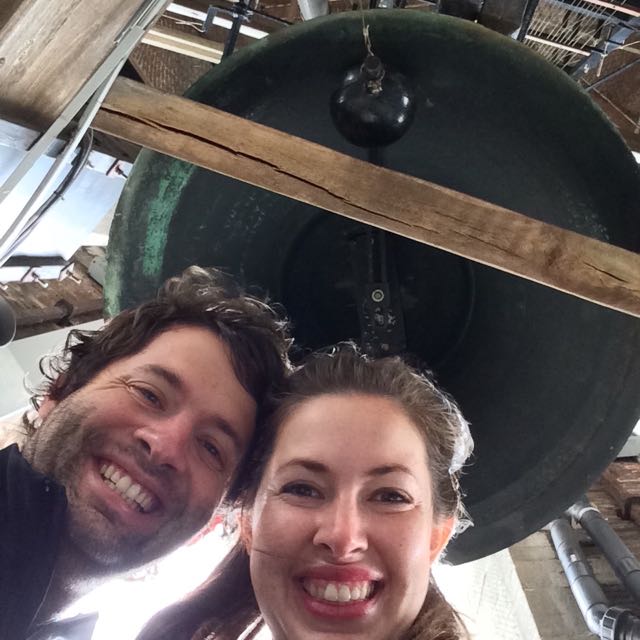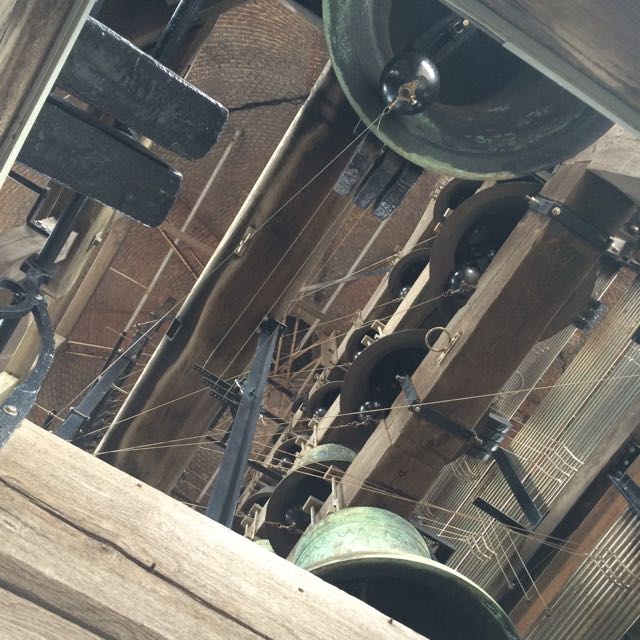 The last stop in Bruges, and one of the most delightfully surprising was a church which our hostess had told us had a "surprise" inside. Our expectations were pretty low for what constituted as a surprise, but they were greatly exceeded! The church had been partially converted to have a giant swing hanging from the ceiling. The idea was to bring the playfulness and nature of the park just outside the church, into the church. Grant and I took turns pushing each other on the swing.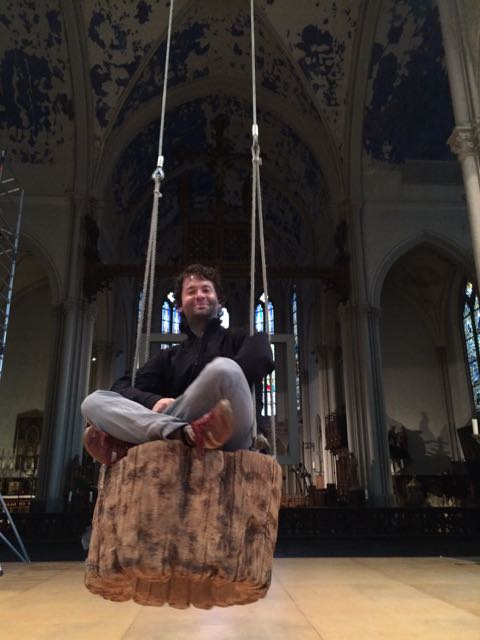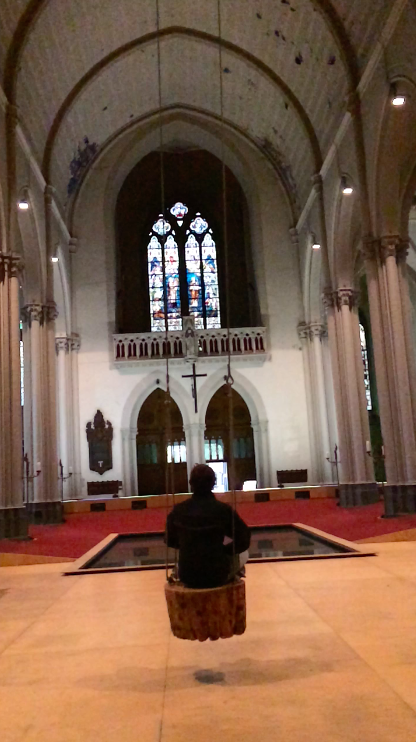 Flying through the cavernous nave, in the silent air tinged with recorded choral music, I had a completely different spiritual experience in a church than I've ever had before. I imagined God was looking down on us happy that we were smiling and enjoying His house.
Soon we are off to Paris to meet up with Megan!